Hi Wealthy Fam! As you know, I recently moved to the Bay Area and I'm finally ready to share my budget and thought process behind it. New here? Check out this announcement for context.
I want to start by saying that my budget is still a work in progress and there are a few estimates below due to a variety of factors that will be discussed a little later on. I also wanted to mention that this is my first solo budget since 2011, time definitely flies.
Getting Started
Before creating a monthly budget, I used the free annual spreadsheet to plan out my year. Seeing everything all on one page is super helpful in analyzing how my cashflow changes throughout the year. Doing this helps me be proactive instead of reactive towards irregular expenses that I know are on the way.
Fixed Expenses
This was the category that gave me the most anxiety due to the exorbitant cost of living in the bay area. Since I do not have any family or friends here, living alone was my only option (I refuse to live with strangers or somewhere unsafe, sorry not sorry). Other than my rent costs, everything else is pretty normal for me.
I currently only pay half of my Geico and Tmobile. Webpass (internet) was paid in full when I had it activated at a cost of $504 or $42 a month/12 months.
Like I mentioned in my previous blog, I did receive two months' free rent as well as $1k off of the third month which helped me tremendously during my transition to the bay. My effective rent will be about ~$2300 for the duration of my lease, which is a big reason why I decided on my place.
However, I'll begin paying full rent in April 2019 so the budget below reflects that change. I'm still waiting on my water/trash bill so it will stay at $0 for now. I have no clue why it's taking them so long!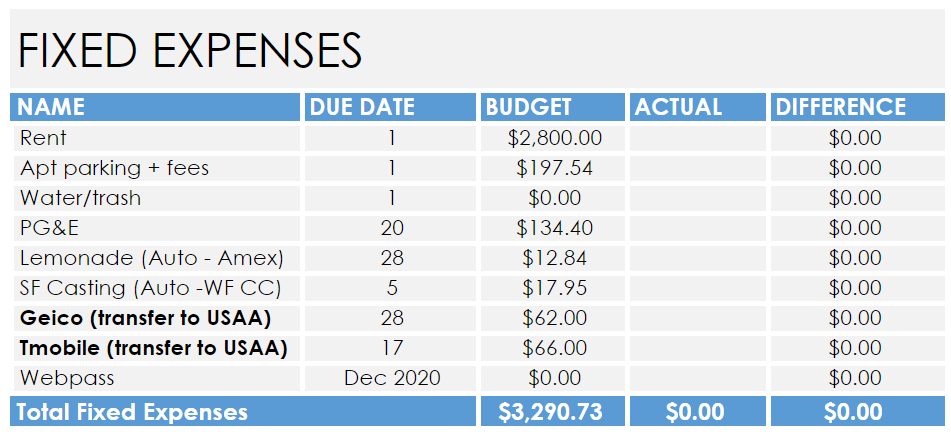 Variable Expenses
To figure out my spending amounts, I simply divided most of my previous joint costs in half. If you're looking for more ideas on how to determine your budget percentages, go here.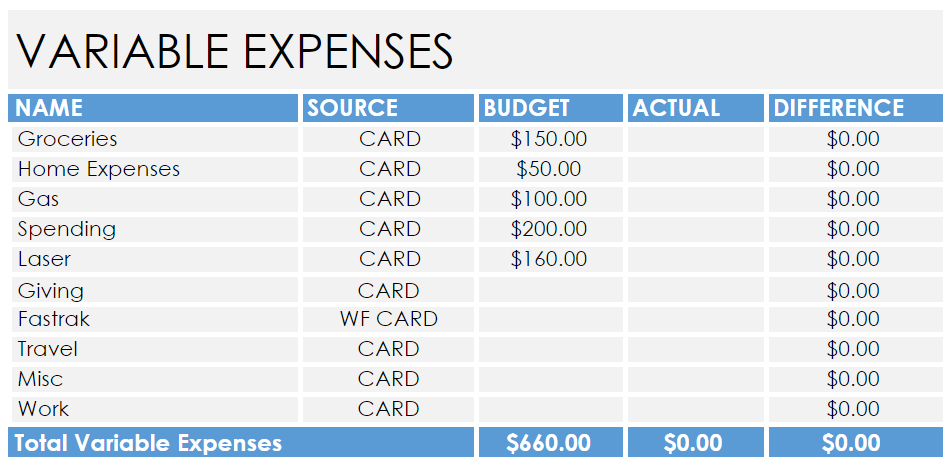 This category can differ from month to month based on my needs and spending requirements. I tend to also track travel and unplanned expenses in this category as well just for simplicity purposes. I don't budget a specific amount for the last 4 expenses unless I have something coming up.
Groceries = food and drink
Home expenses = house crap (toilet paper, cleaning supplies, etc)
Spending = fun money (eating out, entertainment, shopping, etc).
Laser = laser hair removal (legs), used Groupon for other areas
Giving = I keep private
Fastrak = tolls
Savings
To be honest with y'all, these are just estimates. I've been hoarding money the past few months in checking accounts but I do plan on sending a majority of those funds to my emergency fund, IRA and sinking pot (general savings).

About my 401k, my employer does offer a match so I will be contributing 6% of my pay after I take care of my emergency fund and other obligations.
Debt
For debt, my house will be put on the market this month and hopefully sold by March/April. There is equity within the home so this will be mostly a positive financial transaction for us. Right now, I plan to use the money to just save and invest (boring yet effective).
Regrettably, I bought an Acura RDX and sunk a lot of cash into that purchase. I will be selling the SUV and buying a smaller car soon. I may or may not use an auto loan for the purchase and I'm still running the numbers and weighing the pros and cons of that decision. Honestly, I just never want to have so much cash tied up ever again because as you can see, life happens.
Tracking Expenses
I track my expenses using Goodbudget (GB) and my monthly budgeting spreadsheet. I also use my AMEX Gold card for all expenses unless I'm forced to use Visa by the merchant. Using my AMEX helps me keep my credit active, gives me rewards and lets me track my spending if I forget to input things in GB.
Here are my variable expenses shown as digital envelopes in the Goodbudget app.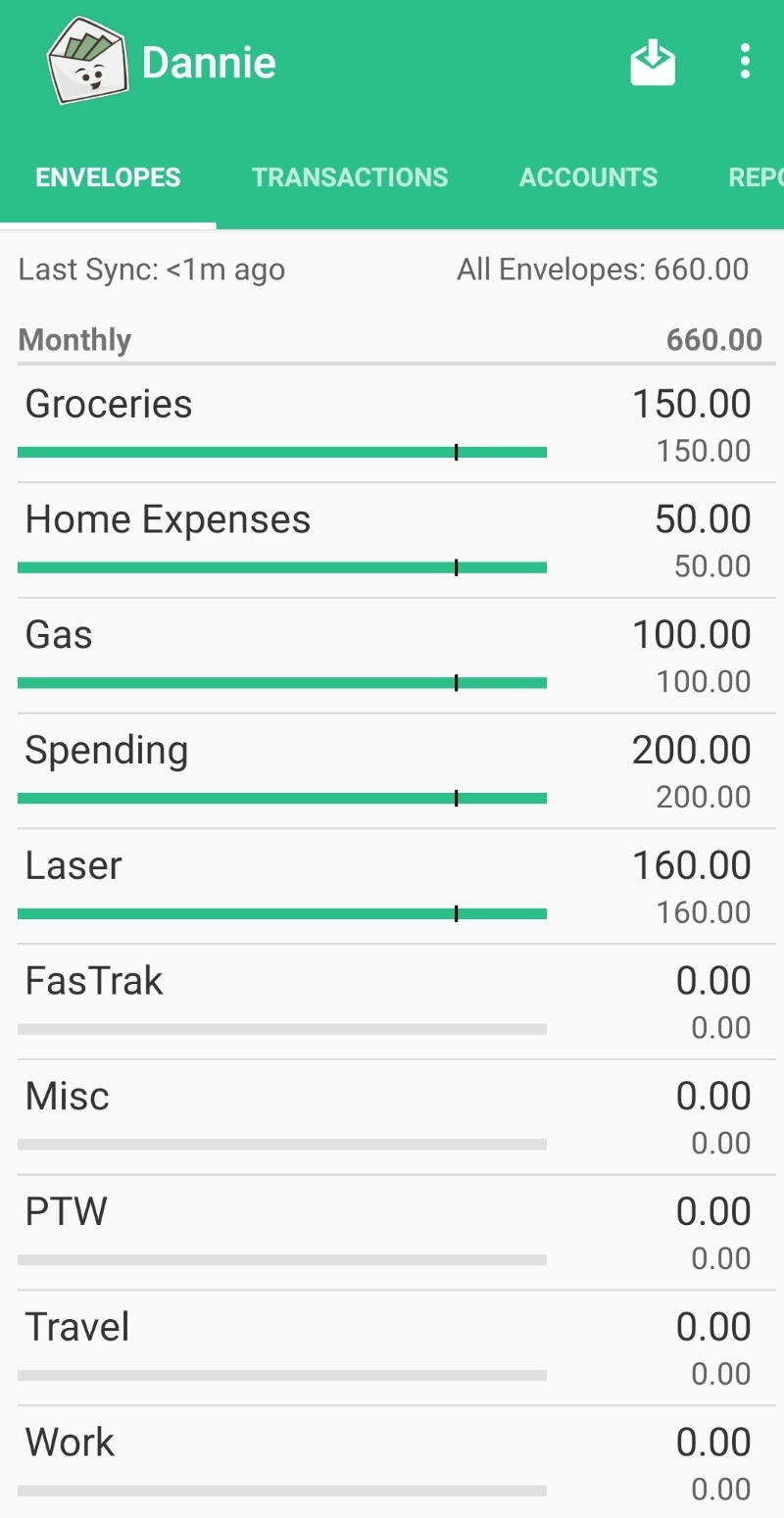 Simplicity is Key
So that is my budget Wealthy Fam! Budgets are not a set it and forget it kind of thing. I'm sure I'll be tweaking my amounts throughout the year and I'm fine with that.
I'm just thankful that I was financially literate and financially stable enough to enter this new chapter. 5 years ago, I would've been dealing with a disaster.
If you need additional help creating a budget and debt payoff plan of your own, check out my free Getting Started – Basics series.
Thanks for reading! I'd love to know which of my expenses are higher of lower than yours <3.
Stay Wealthy Fam,
Dannie