It is often said that mutual fund is the best investment vehicle for new investors as well as small investors. One does not require any special knowledge about the finance or investment domain to be able to invest in mutual funds. Moreover, there is no special cap for investing in any fund. You can enter the market with as little as ₹500, via mutual fund in a SIP mode.
Equity funds can be a great investment avenue for new investors who want to have an exposure to the stock market. Seasoned investors already know the benefits of investing in equity funds. However, there are different types of equity funds in the market. Such different types might confuse a new investor as they are unsure about which one to choose.
But, we have got you covered here. Take a look at the following infographic that will help you understand the different types of Equity Mutual Funds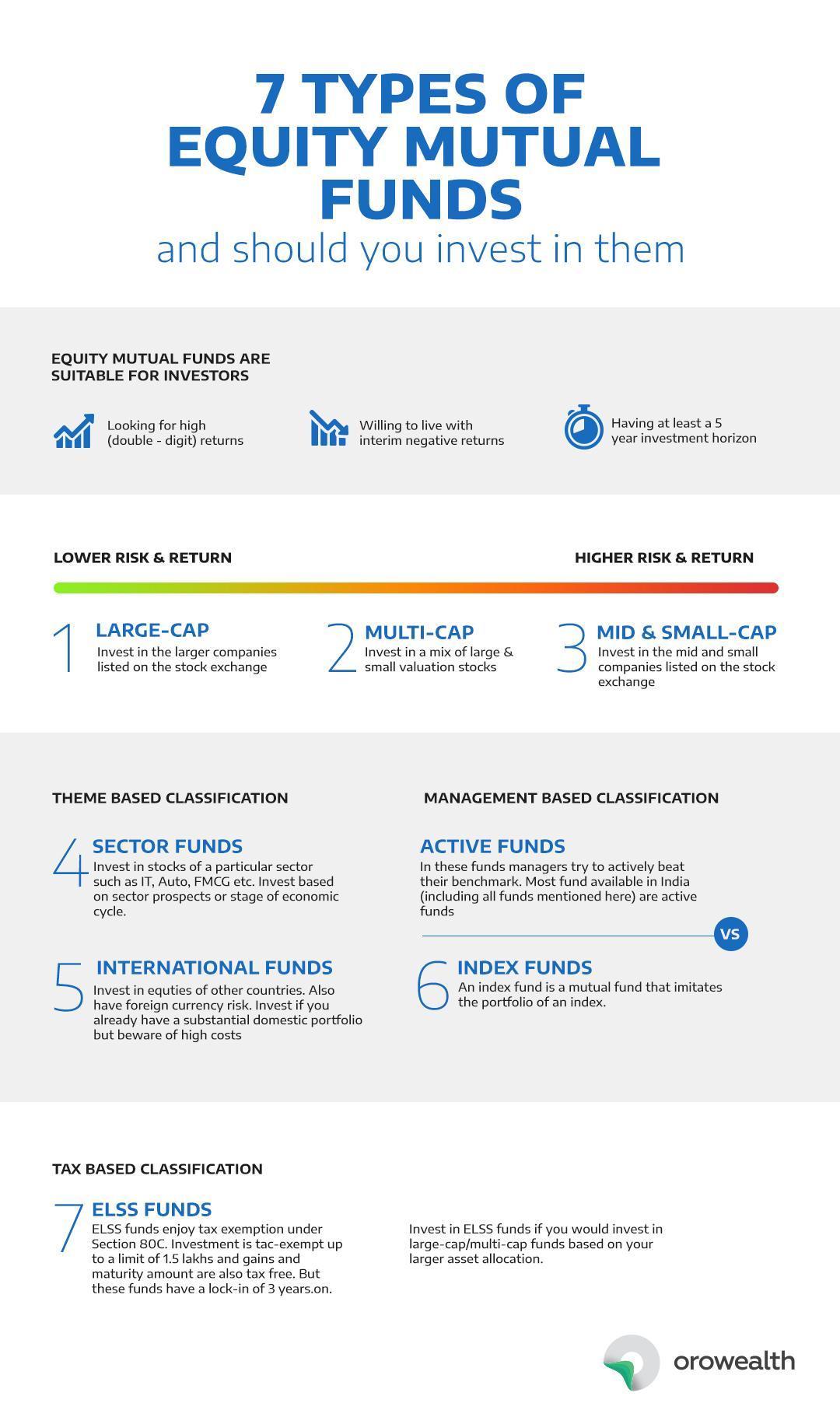 So there are 7 main types of equity funds. Let's have a quick glance at all of them.
1. Large-cap Equity Funds
Large-cap equity funds usually invest with companies having a solid market capitalization. Some common examples would be ITC, SBI, ICICI Bank, Unilever etc. Large-cap equity funds invest in such companies that have the ability to show year on year steady growth and profits. This, in return, provides stability to the investors.
2. Multi-cap Equity Funds
It is an open-ended fund that invests at least 65% of its total net assets in equity and equity related instruments of large cap, mid cap, and small cap companies.
3. Mid and Small-cap Equity Funds
Mid-cap equity funds invest in stocks of mid-sized companies. Generally, the market capitalization of such companies is somewhere between INR 50 billion to INR 200 billion.
Whereas, small-cap equity funds invest in companies that are at the lower end of rankings in terms of market capitalization. Companies in this category are generally start-ups or businesses in their initial phases of development with comparatively smaller revenues.
The companies in this category have the maximum growth potential and can generate very high returns. However, the risk involved in this category is also on the higher side due to their medium or small size.
4. Sector Funds
These equity funds are sector specific i.e. will only invest in companies of a certain sector, say healthcare, pharma, or IT. These funds
5. International Funds
International funds can invest in businesses or companies located outside India. The risk and returns of the fund may vary from country to country.
6. Index Funds
Index funds as the name suggest invests money in an index benchmark such as Nifty or Sensex. The performance of an index fund is directly proportionate to the performance of these benchmarks.
7. ELSS Funds
These are open-ended funds that invest in Equity Linked Saving Scheme (ELSS) in accordance with the Equity Linked Saving Scheme (2005), as notified by the Ministry of Finance. ELSS funds offer tax benefit under Section 80C of the Income Tax Act, and there is a statutory lock-in period of 3 years.